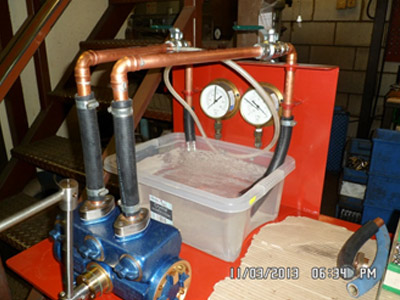 Commercial, Civil, Humanitarian and Military Applications

The Jupiter Pump has a long and successful track record in use with many NATO forces around the globe and still remains in service. But this is not the whole story, our Jupiter Invader Pump has also been widely used in many other applications.
It has shown its potential for many other proven civilian uses including: Industrial, Construction, Marine, Transport, Humanitarian and Aviation to name a few.
It can be permanently fitted within a building or works, fitted to a vehicle or its chassis or used on a portable frame or hand drawn trolley. Where ever used the Jupiter pump needs no external power source, except human energy, being hand cranked, it can pump approximately 600 gallons of water per hour.
In remote areas and regions where electricity is non-existent or cut off, water sources or wells can be pumped at any time by one individual. Water can be pumped (lifted) into water storage towers and gravity then used to distribute water into local communities, for personal consumption, for irrigation, for livestock or commerce.
We always recommend using a fine particulate intake filter to prevent solids from entering the pump, this in turn provides initial filtration of pumped fluids.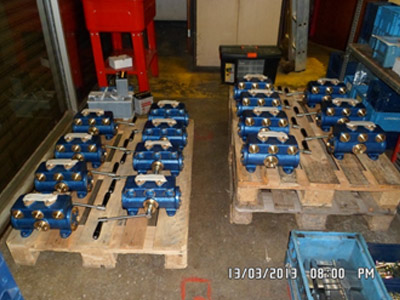 Fully self-priming with 20/25ft. lift and pumping up to 50ft head, the Jupiter pump handle works either clockwise or anti-clockwise for ease of use. Simple to use, simple to maintain and overhaul, it is the green safe alternative for moving liquids.
The High Nitrile seals used within the pump can deal with fuel transfer, potable water transfer, Salt water/bilge pumping and hydraulic fluids.
The pump is not suitable for use in acidic or alkaline solutions with pH levels (values) less than 6 or greater than 8 and should not be considered for pumping human waste or thick viscous fluids. Connection to the pump is from one inlet and one outlet flange. Flange adaptors can be supplied as specified by the customer in a range of materials, with thread sizes and connectors as required. Manufactured from high grade, high quality materials, LG4 Gun Metal, Naval Brass and 316 Stainless Steel with full UK traceability to BS EN ISO 9001:2008 standards this is a world class pump designed to perform for the Military and yet finding an even greater peaceful use enhancing our environment and bringing sustainability to the lives and work of people and their communities around the world.
The Jupiter Invader Pump Company will export and organise freight to any destination at cost; subject to our customer's requirement.
We also stock a full range of spares at all times ready to despatch next day.