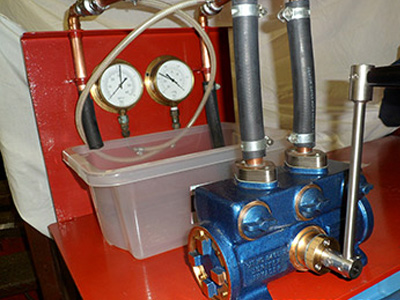 The Jupiter Invader Pump is a manually operated, rotary, self-priming pump designed for bilge, fuel transfer and fire-fighting applications. This well proven design has been in continuous manufacture since the mid-1960's, beating inferior designs to gain Ministry Approval. Originally designed for and sold to the Ministry of Defence, who still use it on all Fighting Ships, from Mine Sweepers to Aircraft Carriers. The pump now also has many commercial and civil applications. Customers include, amongst others, Rolls-Royce Marine, BAe Systems and Babcock Marine.
Manufactured from cast LG4 Gun Metal, the Pump Body, Pistons and all internal components are machined in-house, assembled and tested before despatch by K & T Engineers, who are BS EN ISO 9001: 2008 approved. We hold all the original drawings, casting Patterns, Jigs, Fixtures and tooling for the Pump and are the sole worldwide manufacturer. We carry a full range of spare Parts in stock. Additionally K & T Engineers can also examine, overhaul and/or repair and bench test your existing Pump at our own Factory. Each Pump is issued with a Test Certificate on despatch.
The Jupiter Invader Pump does not need lubricating and is virtually maintenance free, apart from accidental damage or long term wear when it can be stripped down with little more than a screwdriver and a socket allen key.
The Jupiter Pump can be supplied with a range of Inlet/Outlet flange adaptors to suit most applications upon request.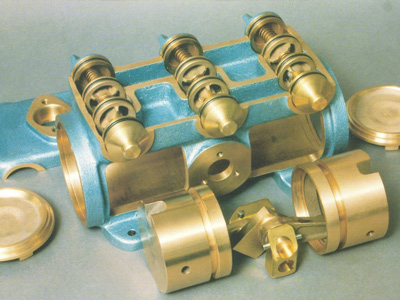 Inside the one piece cast Pump Body lie the Pistons, con-rods, crankshaft assembly, and valve assemblies.
The pump operates as an in-line, horizontally opposed boxer twin with both pistons operated off the central crankshaft. The cylinder ends are closed by sealed caps.
The three valve assemblies are suction and spring controlled by the action of the pump itself, these are mounted directly above the cylinder in the valve chest, which is cast as an integral part of the pump body. The valve assemblies can be individually withdrawn from the pump without disturbing the remainder for inspection or overhaul. Fully self-priming with 20/25ft lift and up to 50ft (maximum) head, the pump handle rotates fully in either direction.

Height – 178mm (7in)
Width – 137mm (5.375in)
Length – 315mm (12.375in)
Weight – 18.1kg (40lb)
Capacity – 0.16 gallons per revolution giving approx. 600 gallons per hour (2,725 litres/hour)

Recognised Part Numbers are as follows:
Jupiter Invader Pump Mk 4, JP 4000 GM, Standard,
NSN  99-524-4###
Jupiter Invader Pump Mk 4, JP 6000 GM, Non-Magnetic
NSN 99-544-4###

Price, availability and delivery lead times can be supplied upon request.